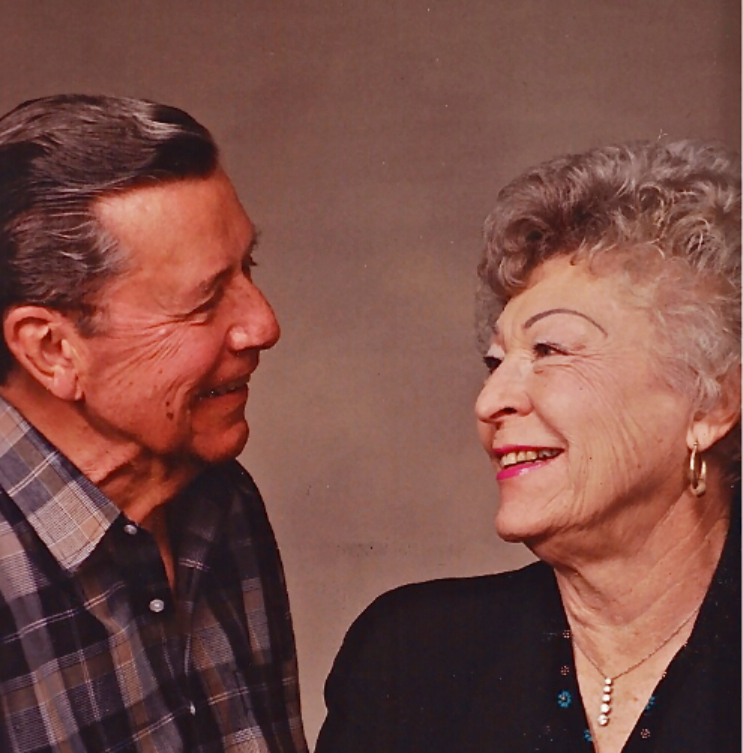 Genetics does Matter - Today, we understand about psychopathy.  A few background facts on Carolyn Anne Barteaux's father, Richard Lee Barteaux.  Then, I'll tell you about Little Carolyn, who was the most beautiful baby you ever saw. 

Richard was the adopted son of Walter Dean Barteaux and his wife, Betty Stevens Barteaux.  I barely knew him when we eloped in early September, 1966. I wish I had a good excuse but I don't. 
  By September 7, 1966 we had married in Starkville, Mississippi.  This happened because while Richard could read a map he would not read the paper.  There is another story here, but we will leave that for the screenplay.
   I left Richard the next January after he tried to stab me.  I should have left earlier, when he started genuflecting and moaning while listening to speeches by Adolph Hitler.  I was both puzzled and alarmed, making a note to do some research on the issue. But after I escaped my attention was elsewhere.  I was having a baby and needed to apply myself to finishing high school and to getting ready for the baby event.  Then, I would be going back to school. this time to college. 
   In early 1968 Richard impregnated a young woman named Beverly Saville. I learned of this several years later but this brought on a divorce, as no divorce between us had yet taken place.  I was just glad he was gone.  
  Beverly's former fiance, Michael, contacted me while I was in college and told me Richard and Beverly had stolen the wedding rings he had purchased for them as she left.  Michael said Richard could keep Beverly Seville, he was through with her.   But he wanted the rings back.  I suggested small claims court.  Beverly did not sound like someone he should have been serious about, anyway. 
       In 1983, Richard married another woman named Belinda.  That was all I knew until she started making comments on the website I put up about Richard. Her comments were extremely informative.  See Below:
The Barteaux Family Story
Belinda: January 5, 2018 at 3:47 PM
We were married in Las Vegas and we lived there for about 6 months of course his daddy sending him money all the time. I finally escaped with my dog I had a friend from California send me the money to come home. Now I am still far away from California or Nevada I will never go to either State again even though I know he's gone! 
January 6, 2018 at 9:35 AM
Richard did not go directly North we lived in Ls Vegas in 1983. He could drink 24hrs there. This also was my escape point!! Thanks to GOD my lol Dog and snuck away first chance we had to save our lives. He would steal my glasses knowing I couldn't see to drive without them, but thank GOD didn't hide them very well!! No more police calls I got away!

​
January 5, 2018 at 2:38 PM I honestly think if I hadn't gotten away when I did I wouldn't have gotten away.  (Thanks for the comments, Belinda)
     MP-F - Richard died on May 8, 1993 of  Cirrhosis of the Liver after a life time of drinking.  His family flew in, had his body cremated and spread the ashes on a local brewery. It surprised no one that Richard was a psychopath.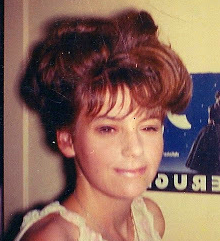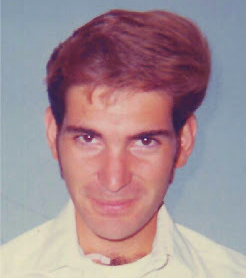 Back to Melinda's recollections
- When I began my prenatal care, my mother accompanied me. I was not allowed to leave the house alone because of Richard's death threats.  This advice came from my attorney and our family physician.  Coincidently, our physician had delivered both me and Richard and knew our families well.  He had strongly urged me to get an abortion, but then, and now, I am pro-life. 
     I had left Richard in January 1967 because he had attempted to stab me while on he was on drugs.  
     I was stunned when my attorney told me Richard could have unsupervised visitation, if he wanted.  

      Richard had told me he would have sex with our baby if it was a girl.  I was determined to make it impossible for him to harm her.  
     The only way I could keep my unborn baby safe, my attorney said, was to get married again and have my new husband adopt the baby.  Then, pausing, he added this, "Do not ask for support for yourself or for the baby, either."   I followed his advice.  I finished high school in home-study due to the threats.  I could have attended the graduation ceremony at Venice High School but I was past my due date and chose not to do so. (I actually went past 9

Documents Relating to Morgan

​​
September 7, 1966 
   Mary Linda (Melinda) Pillsbury & Richard Lee Barteaux

                           (born Barteaux)

1968

     June 24th
Divorce Decree
​1972
May 1st
- Marriage to Ronald E. Kellett (AKA   Foster) 
Later the same year

     Adoption of Carolyn Anne by Ron Foster (Kellett)


months to 10 1/2 months, which happened   with each of my subsequent pregnancies.) 
      Little Carolyn was breast-fed.  I insisted, having spent copious time reading everything I could find on the subject of pregnancy, birth, breastfeeding, and early childhood.  I also made a large layette for my baby.  This included 8 baby blankies, coordinated with short-shirts which tied in the front, longer gowns which also tied in the front, a knitted snuggli with a hood and a sipper down the front which allowed the baby to stay warm, but was constraint-free for the baby's little legs.  The garment was white and very thick and warm.  Each of these garments, with the exception of the snuggli, was embroidered with the initials CAB.  These would stand either for Carolyn Anne Barteaux of Charles Arthur Barteaux, depending on the gender of the baby in those days when you had to wait to find out. All the garments were hand finished and had French seams. 
        It was at this time that I invented the little creature made from the first names I had chosen for my baby.  I called it  "The Beastie."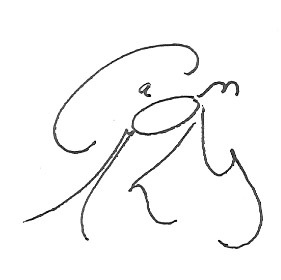 Little Carolyn (LC) realized very early that there were many fun things I could make for her, which was fine, but she tended to want these made over and over again.  For instance, I made her a small frog from Play Dough, colors were green, yellow, white and a tiny black round item for each eye centered in the white of the eye.  One afternoon she was not satisfied until I had made 100 of them. 

   But over time, a short period of time, say, by the time she was two and a half, LC expected me to be always on call for these little services no matter what I was doing.  For instance, if I was working on an assignment Little Carolyn would run to her Grandmother as say to her, "Gramma, make her....(fill in the blank).  

      These demands changed, of course.  But this is how, quite against my will, I learned all of the words of the Banana Splits theme song. I was also required to dance and sing along with the record as Morgan watched and clapped her hands shouting, "Faster, Mommy, Faster!"  For some reason LC did not want to dance herself, she wanted to make me dance instead. 

   While I was living with my parents LC was sleeping in the old white crib, which had held all of the Pillsbury babies for generations, when she was not sleeping snuggled to my breast.  The breast-feeding stopped when I started at Santa Monica College.   

   Grandma, Mary Alice, called 'PAM', for her married initials, reversed, had found an occupation to displace her empty-nest feelings.  It was also an excellent reason not to  accompany her huaband on his business trips.  I could not imagine why she felt that way, Dad did fascinating studies on water resources and met people with well founded and intelligent insights into the use of water.  
The Beastie

   Before, Pillsbury children had been raised with a strong and well reinforced work ethic.  Little Carolyn found it easy to evade anything with even the faintest relationship to 'work' either by not being competent to perform the task or by simply refusing.  She would do whatever she wanted, however.  
    This striking preference for LC over the three other grandchildren caused comment and questions among my siblings over the next twelve years. I was not at all happy with what was happening because it was clear Little Carolyn was being over-indulged and leading her grandparents around by their noses.  And until I married again, the threat of Richard deciding to seek visitation still worried me.  
         On May 1, 1972, I married Ron Kellett, who decided for reasons of his own, to change his name to Foster at the time our first child, a daughter named Dawn Ellen, was born on March 5, 1974. Ron had immediately adopted Little Carolyn, just months after the wedding.        
          I had decorated a room for LC at the apartment Ron and I had rented in West Los Angeles when I was told Little Carolyn had decided she wanted to continue to live with her grandparents - and they were moving to a little town in the foothills of the Sierras now that Dad, Dr. Pillsbury, had retired from UCLA.
        They agreed, LC, about to start kindergarten, would spend Summers with us in Los Angeles and the school year with her grandparents who were willing to give their beloved grandchild anything she wanted, to the concern and chagrin of all of their children.  

           On February 12, 1974, Carol Sylvia Pillsbury Holbert, my parents's second daughter, died of a heart attack.  She had been on her way to spend her birthday with Mom and Dad in Springville.   This is when we learned about the family heart condition on Dad's side of the family.  
Cuteness Begins to Curdle​​​

Morgan Manipulates & Amasses Loot

 
Understanding what happens requires becoming acquainted with the Pillsbury Family.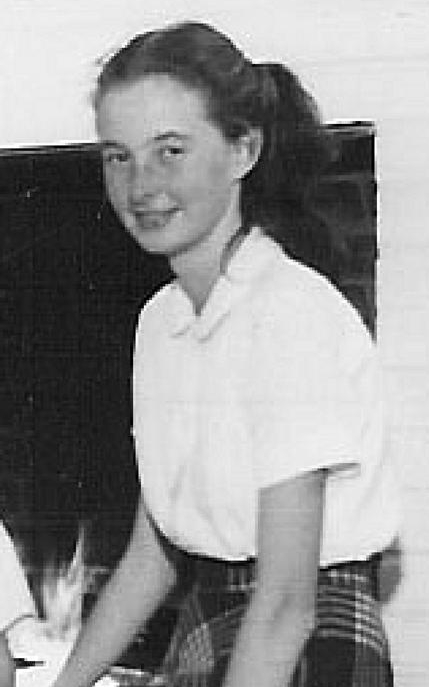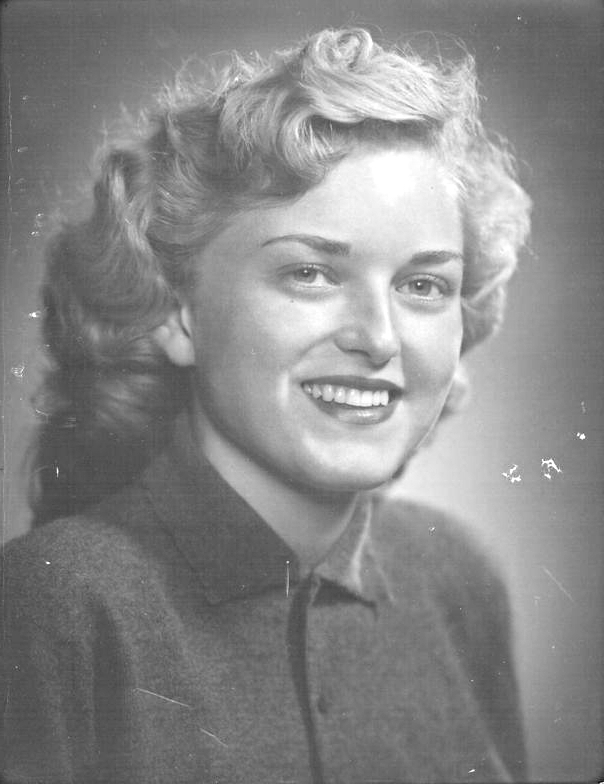 I am the family genealogist and historian.  This requires an adherence to facts, documentation and accuracy.  I was producing a family history on one ancestor for Christmas each year,

​

instead of a Christmas card when Dad asked me to handle ensuring his father's legacy would endure. It is a task still ongoing.
LINK
      Our family went through some long shock waves because of  Carol's death.  I was due to give birth, and my physician would not let me go to the funeral.  Sitting there, alone at home. was agonizing.  I spent the whole day crying and looking at my photos of the family.  I had not seen Carol since she discovered I was again pregnant; because, she told me, it was too painful knowing that she, herself, could not have a child.  I had mailed her a Valentine I discovered she had never received when it was returned to me unopened.  

    Carol had one child, Eric Scott Holbert, who she and her husband, Gary had adopted in 1965.  Carol was intelligent and hard working.  By the time she was 26 she was Executive Assistant for the President of Pan American Airways.  Carol married immediately after graduating from Venice High School and started studies at a secretarial school.  It was the 50's and opportunities for women were more numerous in secretarial roles.  

  The issue of 'indulgence' was complicated by the fact the eldest child, Anne 
AEtheline Pillsbury Gripp, was a very different person.  Anne had always been very studious while Carol enjoyed a large circle of friends.  Carol was practical.  Anne went on from Venice High School to UCLA to major in Math.  Her first job after graduation was what today we know as computer programming.  Our mother, Mary Alice, had majored in Math at the University of California at Berkeley, beginning in 1928, unusual at the time.  The family orientation was for education, extended literacy, with a strong interest in activism.  These were values carried over from previous generations on the Pillsbury side of the family as well.
​​
  Carol wanted very much to adopt LC when she was born.  I declined.  That would probably have been a good idea because Carol had a hard edge and would not have indulged her. By the time she died, Carol was already pointing out to our parents the potential problems from the level of indulgence she was seeing toward Little Carolyn by our parents.  She and I talked about it, just once, before her death, and I agreed, as the growing indulgences for LC bothered me as well.  

Insights -  The only way to understand psychopathic individuals is to debunk their lies.  Morgan has told an enormous number of lies, starting when she was a small child.  At first, I was shocked and traumatized.   I could not bear to read these.  Now, I have found the strength to read and respond by showing the depth of these written libels and verbal slanders.  Read the letters written by people who know me well.   There are also statements on people who have known Morgan.  
The last photo of my family together 

     This photo has multiple stories to tell.  LC in the front row, middle, is wearing the white gown I made for her baptism at
St. Bede's Episcopal Church
, where I was attending.  Her Godfather was Ron Kellett, who I later married.  ​​
       One of my closest friends at this time was Marian Replogle.  Because of the outrageous lies Morgan has told, I asked Marian to write a recollection of what she remembered about Little Carolyn and my relationship with my daughter.  Marian and I still talk. 
Marian Replogle
          Marion was also my Maid of Honor when Ron Kellett and I were married on May 1, 1972.  My sister, Anne, was my Matron of Honor.  Marian and her mother hosted a wedding shower for me as well, which is warmly remembered. 
         Although it was a time when most of my friends were engaging in the excesses of the era, my only outside entertainment was square dancing.  As Marian notes, we did attend
Young Republicans
at Santa Monica College and I was Representative to Student Government for the
Judo and Karate Club
. 
       During the Summer we spent time at the famiy cabin in the Sierras then owned by the family; or I would also spend time with Anne in Goleta helping her with various duties, including cutting down palm fronds, caring for the strawberry plants and assisting with her Blue Bird Troop.  LC always went with me to Anne's place.  It was fun for all of us except for the time LC got a sunburn.  She was very light skinned and loved the beach so much she did not want to stop playing so we could put on her sunscreen.  

From 1972, until my daughter, Dawn Ellen, was born, I regularly spent time at my parents home in Springville, CA, to be with LC.  I painted a mural in
 her bedroom of all of her favorite stuffed animals on the two sliding doors of her closet. 
During this period, I was reading more on Objectivism along with continuing my interest in Ancient History, Archeology, and Literature.  Poetry from this period is on my website as  
Yesterday​​
, 
Poems from Before the Fall 
               Poetry has always been viewed as a light into the spirit.  My friends have always said this is so with me. My body of poetry now approaches 1,000 poems.
              In 1973, LC spent time with us during Christmas break.  I had made panda bears, each about a foot and a half tall, for her, Eric, Alice and Perry, Anne's children, her cousins.   I hoped very much Little Carolyn would decide to come and live with me full time, and on this occasion she called her Grandma and told her she had decided to do so.  This did not happen because after she returned, LC changed her mind when Mom and Dad bought her her first horse; which meant she would have to be in Springville.  Later, I realized LC had been pressuring them for a horse and by telling them she was going to live with me; caused my mother to decide LC really needed a horse. 

           I was disappointed; but tried not to let this impact my relationship with my parents.  
             1974 was the year I discovered the Libertarian Party.  Dawn Ellen was born March 5, 1974 at St. John's Hospital in Santa Monica.  Dawn was baptized at St. John's Church in Porterville, CA, so my parents could be present.  My brother, Stephen served as Godfather; and a neighbor and good friend of my parents, Pauline Pritchett, became Dawn's Godmother. 
                While Ron continued to attend college, I had started writing his papers for him.  He was no writer, and research did not seem to come easily to him.  The first year, when my parents were living in Springville, I wrote a paper for his Psychology class using Harry Browne's book, "How I Found Freedom in an Unfree World," as source material.  It was through Browne's book and the work of Gandhi, that I was introduced to the ideas of Elizabeth Cady Stanton, Alice Paul, and earlier proponents of non-governmental solutions to social injustice.  

          Dawn's birth had persuaded me that the medical establishment was highly paternaliistic.  I had wanted a natural birth, and this was blythly ignored by my physician, after assuring me my wishes would be followed.  My reading on natural birth practices had continued through the birth of my next child, another little girl, Ayn Suzanne.  The birth took place at our home on Lyceum Ave. in West Los Angeles.  Although we had arranged for a physician to be present, he was unable to be there because of a critical birth; coincidently, a friend of mine from my childbirth class.
                 I took classes and workshops and became a Certified Bradley Birth Instructor.  This, with my political work, which included being Southern California Vice Chairman for the Libertarian Party of California, kept me busy.  This included managing campaigns for candidates, fundraising, and building out a local organization which had become moribund.  Ayn's Godparents were close friends of ours, The baptism again took place at St. John's, so my parents could also be present.  
​                  Arthur, our first son, was born on January 18, 1978, at our home on Chimineas Ave. about six weeks after we moved to Reseda.  He also was a home birth.  This time, the midwife could not make it for a similar reason.  
​              Trips to Springville to see LC and my parents were frequent, until after Mom and Dad adopted her in late 1979 when Little Carolyn was then 12.  
             The reason for this was  our failing marriage.  We had borrowed money to add on to the house; but Ron seemed to lose interest in the project by 1981.  Unfortunately, this happened only after he had poured the extensive foundations in the back and put up the structures for a first and second floor.  He began spending his weekends at Role-playing Gamer Parties.  Ron also became physicially abusive of myself and the children.  Dawn later said, after she was grown, that everything was happy until they heard his motorcycle pull into the driveway.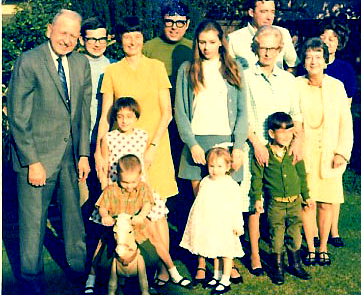 Left to Right - Dr. Pillsbury (Dad), Stephen, Anne(Alice and Parry, her children, in front of her) , Charles, Melinda (Morgan in front of me), Gary Holbert (Mrs. Pillsbury in front holding Eric's shoulders), Carol in the back with Aunt Evelyn in front of Carol.)
           In 1981, we agreed to divorce; but this could not happen until the Room Addition was finished, because we could not sell the house in its existing condition.  
              Ron kept spending weekends at his game parties.  Both of us started seeing others.  It was a rocky time, and hard on the children.  Having LC there did not seem like a good idea after 1981.  
           At least, I thought, for LC, life was stable and secure.  But later I learned this was not the case for my parents.  

         Through the years from 1979 to 1985, violence was visited on all of the children, and me, by Ron. A final episode of violence on Thanksgiving Day, removed Ron from our home.  During this time, unknown to me, LC was becoming a domestic tyrant in Springville.  Her first horse was replaced by a better one; LC built up a collection of 1,000 Breyer model horses; three original and signed by the maker, Xavier Roberts, when these were still known as "Little People." The price to 'adopt' one of these little people was several hundred dollars.  This had started the year my son, Arthur, was born, January 18, 1978 at home in Reseda at 7019 Chimineas.     

         LC was in school in Springville until she dropped out in the 8th grade.  This was an embarrassment to Dad, because at the time he was President of the Board of Education.   From what Mom was willing to say, this was because I had suffered an emotional breakdown at about that age and was out of school for several months.  This was caused by my being sexually abused by my older brother, Cap.  However, I returned to school at Webster Jr. High in West Los Angeles, graduated, and started Venice High School with my class.  Later, I realized LC would take advantage of any event in my life which she decided to emulate or adopt to her preceived advantage.

            LC never returned to Springville School, or to any school in the area.  Instead, my parents signed up for a home education program from a Christian school.  Little Carolyn was not depressed.  She spent her time, according to Mother, with her horse, and making mischief around the small town. 

            Mom and Dad sent her to stay with me for several months in the spring of 1981.  LC's adoption by my parents had taken place about 18 months earlier.  Our house was small, two bedrooms, one bathroom, so Little Carolyn was sleeping on the couch in the livingroom.  
                LC's focus, as was true of many, was the coming Royal Wedding of Lady Diana Spencer and Prince Charles.  LC was entirely focused on having a wedding dress just like Diana's.  I bought the material and sat her down at my sewing machine, glad she had something which required learning a skill.  I had looked over her more academic work, and was concerned about her writing and level of understanding for the materials provided. 

            Before long it was decided that LC should live with her Aunt Anne.  LC went back and forth between Anne's home and Springville, until Anne could no longer stand the chaos and acrimony  the young teenager, now calling herself Morgan, after a breed of horse, caused.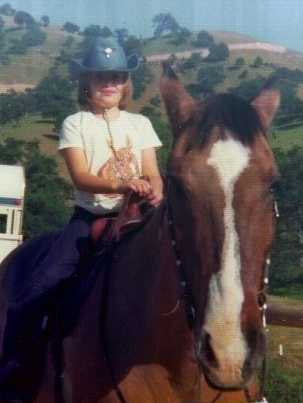 Morgan was visiting me for the weekend when Anne called to tell me she could no longer have Morgan living with her.  I was stunned - but Anne immediately told me in detail why this was so.  It seemed Morgan enjoyed manipulating her cousins, Alice and Parry, getting them to fight. Anne's voice was at all times calm but steely.  She had had enough of Morgan's demands.  But the final straw was walking into a room to find Morgan attempting to seduce one of her clients from her Orchid Estate business.  I was incredulous.  Morgan was still so young!  All of my life I had known Anne as kind, forgiving and compassionate.  But clearly, if Morgan was not welcome, she needed to be relocated.  On this point, Anne was also adamant.  Morgan could never live with our parents again, her constant demands, refusal to finish even the independent study school work provided to her, and the screaming and harassment of Mom and Dad could no longer be tolerated by them, either.  

    I had been standing. I abruptly sat down, feeling as if my legs had collapsed.   

    I told Anne that Morgan could stay at our home. 

​  After hanging up, I called Mother immediately and learned that she could not handle Morgan.  Then, I thought this was because she was getting older.  But I was about to find out what it was like to deal with Morgan.  It turned out to be uglier than I could have imagined.  

 
   At first, I was hopeful there was a misunderstanding.  Morgan moved into the Family Room and began calling Dad to demand a car.  She had agreed to start school at the local Junior College at age 18.  Father agreed to buy her a car as transportation.  I assumed this would be a reliable used vehicle; but, no, Morgan 'needed' a new car, and Dad, sounding tired, agreed to buy one for her.  

    Perhaps, I reasoned to myself, she would calm down when she was in school. I was happy to find out that Morgan wanted a job as well.  She found one at a local clothing store, and made friends with one of the other sales girls.  Mentions of her classes were not forthcoming, however.  She dismissed these with a shrug, school was school, she said.  
    At home with the family, I became concerned about her behavior.  Morgan did seem to like to see other people fight with each other.  Her brother Arthur, commented upon reading this, "Morgan delighted in instigating two unsuspecting parties into fighting with each other for her evil-spirited pleasure.  I was raised in First Lutheran Northridge School, as were my sisters, Dawn and Ayn.  We had been taught to shun strife and unholiness."   

    My new husband, Craig Franklin, and I agreed it would be best if she had an apartment; so I rented one for her near the college.  Later, I found out she had stopped attending.  She was involved in an auto accident, and told me she was in agony.  The accident was not her fault; but her car was totalled.  Dad replaced it for her. 

    Later, Dawn and Ayn told me she was pretending to be in pain.  She had quit school and was going horseback riding instead.   
    Even when she was living in her own apartment, Morgan would return to the house to make demands.  The first one, which frightened me, was the way she demanded I call modeling agencies and get her an agent.  I knew she had taken classes in Santa Barbara; but Morgan was short. I asked if this was really what she wanted to do.  The tirade I endured, left me sick and shaken.  Then, rather suddenly, she lost interest in modeling and no longer came back very often; sometimes only once a week.  I paid the rent directly, and she was at the time, receiving support money from Mom and Dad, which they insisted we take to pay her expenses. Instead, I just handed it over to her directly.                                       

Next Page
- van Halen, drugs, alcohol, and revelations.
Morgan on her second horse

Girls & Horses: Dad suggested riding lessons for me, Melinda, when I was about seven, and I continued these for several years.  Dad took me to Dupey's Stable, where he had riding lessons as a young boy.  This was his suggestion; but I know it was a way he signaled to me his appreciation of my interest in his work.  The lessons began soon after I asked him to bring home books for me on soil science, irrigation and other topics which he had introduced to me, when I spent time at his office at UCLA after school. 

Morgan had no interest in anything but herself, as a child or later.  Horses, and the related costs, placated her.  These were bribes to stop the tirades and incessant verbal abuse and physical threats.